Connecting Things: Objects and Heritage Constructions
11. October 2022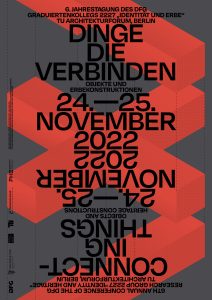 The registration for the 6th annual conference of the Research Training Group in the Architekturforum at the Technische Universität Berlin is online! This year's conference focuses on the research objects of our PhD researchers. How are things ascribed symbolic meaning, and often multiple and potentially conflicting meaning? How are narratives that inform heritage references linked to such things? What role do things play in the formation of new or as yet under-recognised constructs of heritage?
The DFG Research Training Group invites its guests to raise such open theoretical questions. The conference is not only a space in which to present research outcomes, but also a forum for reviewing established research approaches, contexts, and situations. The standard lecture format is complemented by a poster-exhibition on the objects being researched by the Research Training Group, which takes place in the foyer next to the Architekturforum.
To attend the conference "Connectings Things" please register free of charge here.