Henri Hoor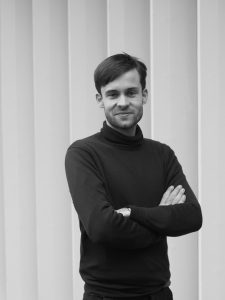 Shortbio
Seit 2020 Promotionsvorhaben in Denkmalpflege und Baugeschichte, Bauhaus-Universität Weimar, Stipendiat der Gerda Henkel Stiftung
2019 Masterabschluss an der Eberhard Karls Universität Tübingen im Studiengang "Archäologie des Mittelalters, Profillinie Museum & Sammlungen", Titel der Masterarbeit: "Von der Spolie zum Gedächtnisort. Archäologische Befundinszenierungen in Frankfurt am Main"
2017-2018 Studentische Hilfskraft beim SFB 1070 "RessourcenKulturen" und an der Professur Archäologie des Mittelalters
2014-2016 Mitarbeit im Museum für Kunst und Gewerbe Hamburg und Archäologischen Museum Hamburg, Abteilung Bodendenkmalpflege
2012-2016 Studium der Vor- und Frühgeschichtlichen Archäologie und der Kunstgeschichte an den Universitäten Hamburg und Wien
---
Contact
Bauhaus-Universität Weimar
Fakultät Architektur und Urbanistik
DFG-Graduiertenkolleg 2227 "Identität und Erbe"
D-99421 Weimar
Sitz: Hauptgebäude Bauhaus-Universität | Raum 113
Geschwister-Scholl-Straße 8a | D-99423 Weimar
henri.hoor[at]uni-weimar.de
EXCAVATED CENTERS.
STAGING ARCHAEOLOGICAL MONUMENTS IN URBAN DEVELOPMENT PROJECTS IN BERLIN, FRANKFURT AND COLOGNE.
For the construction of new urban identities in many European cities, ground monuments are increasingly being archaeologically conserved and staged with modern architecture, in addition to reconstructions. This development is particularly significant in some of Germany's major cities characterized by post-war planning and land demolition. Despite the boom in urban archaeology since the 1990s, thinking about how to deal with archaeological monuments in cities outside the ancient cultural sphere is a comparatively recent phenomenon, with hardly any major scientific research available to date. Previous international conferences on the topic have merely presented local concepts of monuments, without any major synthesis or grounded theory building.
For this reason, the dissertation project wants to explore the question of how archaeological monuments are (re)constructed and staged in urban space in order to create local spaces of identity and history. What urban design approaches can be pursued in this process? What kind of narratives are created and how is their reception shaped?
On the basis of an analysis of the discourse history and published argumentation strategies of the executing actors, the path of the monument's creation will be traced: The foreknowledge about it, the uncovering and conservation, up to the preparation and valorization. In the process, certain patterns are to be recorded that dictate which structures and architectural relics are preserved in the urban space and which are not. With the interdisciplinary approach of this work, a contribution should be made to overcome the classical dichotomy of building and ground monuments in cities, which often stood in the way of an urbanistic and overall monument preservation approach to urban archaeological phenomena, apart from a pure evaluation of findings.
---
Publications
Von der Spolie zum Gedächtnisort. Archäologische Befundinszenierungen in Frankfurt am Main. Informationen zur Archäologie des Mittelalters, 19, 2020, 21-23.
Chthonische Spielarten. Zur Polarität von Natur- und Kulturobjekten. In: T. Kohlmann (Hrsg.), Artefakt & Phantasma (Frankfurt am Main 2019) 96-108.
Bemalte Wandputzfragmente aus Bremens erstem Steindom. Motive, Rekonstruktion und Kontext im karolingischen Sachsen. Bremisches Jahrbuch 97, 2018, 22-38.
Älteste Wandmalerei Norddeutschlands. Archäologie in Deutschland 2, 2018, 72.
Flügel und Schreinskulptur eines Wurzel-Jesse-Retabels. In: J. F. Richter (Hrsg.), Lübeck um 1500. Kunstmetropole im Ostseeraum (Petersberg 2015) 238-241.
Sechs Reliefstücke in Wangenform. In: J. F. Richter (Hrsg.), Lübeck um 1500. Kunstmetropole im Ostseeraum (Petersberg 2015) 294 f.
Kreuzigung Christi, genannt "Der Kalvarienberg des Tile Nigel". In: J. F. Richter (Hrsg.), Lübeck um 1500. Kunstmetropole im Ostseeraum (Petersberg 2015) 316 f.