•
Lisa Marie Selitz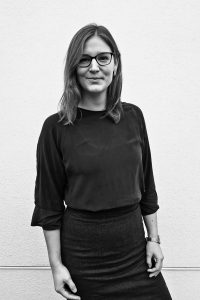 Shortbio
Seit 2016 wissenschaftliche Mitarbeiterin im Arbeitsbereich Denkmalpflege des Kompetenzzentrums für Denkmalwissenschaften und Denkmaltechnologien der Otto-Friedrich-Universität Bamberg im Rahmen des gemeinsam mit dem Bayerischen Landesamt für Denkmalpflege koordinierten Projektes "Das Kommunale Denkmalkonzept Bayern – neue Wege städtebaulicher Denkmalpflege"
Ebenfalls seit 2016 assoziiert im GRK 2227. Betreuung des Promotionsvorhabens durch Prof. Dr. Gerhard Vinken (Erstbetreuung) und Prof. Dr. Barbara Schönig (Zweitbetreuung)
2013–2015: Studium der Denkmalpflege / Heritage Sciences an der Otto-Friedrich-Universität Bamberg (Masterarbeit über die Teilnutzung und Umdefinierung des Denkmalbereichs Bad Münstereifels als innerstädtisches Outlet)
2010–2013: Studium der Kunstgeschichte sowie der Kultur- und Sozialanthropologie an der Westfälischen Wilhelms-Universität Münster
---
Contact
lisa.selitz[at]uni-bamberg.de
Kompetenzzentrum Denkmalwissenschaften und Denkmaltechnologien (KDWT), Arbeitsbereich Denkmalpflege
Otto-Friedrich-Universität Bamberg
Am Zwinger 6, Zimmer 01.05, 96047 Bamberg
Tel: 0951 / 863-1626
https://www.uni-bamberg.de/kdwt/arbeitsbereiche/denkmalpflege/
Preserve – Renew – Participate. Participatory Approaches for the Urban Preservation of Monuments in the Context of Urban Renewal (working title).
In urban historic preservation, the relational relationship between historic buildings and urban structure is considered under historical socio-economic and natural conditions. This perspective goes beyond the narrowly defined catalog of criteria that justify the monument status for individual objects or ensembles, and ascribes to each settlement core and neighborhood its own historical conditionality and significance. Urban character or "urban identity" can be seen here in the traditional contexts – the values of monument preservation and urban development are regarded as a point of reference for making local history tangible. New demands are being placed on urban monument preservation. "Historic urban landscapes" should increasingly strengthen local "identities" and "communities", be designed democratically and be taken as the starting point for urban development. At the same time, various preservation and development goals are to be negotiated in a participatory and sustainable manner in a holistic approach. However, with the loss of confidence in centralized planning theories and the question of the representational capacity of supra-regional institutions in local processes, historic preservation as an "applied science" is also being questioned. While on the one hand it has an urban stabilization function, it is also challenged to accompany sovereign powers by communicatively shaping processes of change and governance. However, regulated principles, query criteria and implementation possibilities for participation and involvement formats in a historically informed urban renewal do not exist and additionally encounter different preconditions and challenges within the legal and institutional framework conditions on the different spatial levels (international, national, on the state level, local).
In the qualification work, therefore, the theoretical foundation of participatory approaches for urban monument preservation is to be elaborated. This is done by analyzing the history and argumentation strategies of the own, increasingly differentiating discipline, contextualizing the topic in related disciplines – e.g. cultural landscape preservation, new museology, urban planning, and democratic theory – and on interrogating and reviewing promising theoretical as well as practical approaches to synthesize the cornerstones "urban historic preservation", "participation", and "urban renewal".
---
Publications
Wertzuschreibungen und Planungslogiken in historischen Stadträumen. Neue Beiträge zur städtebaulichen Denkmalpflege (Forschungen des Instituts für Archäologische Wissenschaften, Denkmalwissenschaften und Kunstgeschichte, 7), herausgegeben gemeinsam mit Sophie Stackmann, Bamberg 2018. Online-Veröffentlichung über den OPUS-Publikationsserver der Universitätsbibliothek Bamberg: https://opus4.kobv.de/opus4-bamberg/frontdoor/index/index/docId/53592, darin:
Ebd.: Bad Münstereifel. Altstadt als Outlet, S. 155–206.
Perspektiven für die städtebauliche Denkmalpflege. Einführung in den Sammelband, S. 9–11.
Expertenworkshop "Bürgerbeteiligung in städtebaulicher Denkmalpflege und Stadtentwicklung" (gemeinsam mit Judith Sandmeier), in: Denkmalpflege Informationen 168, S. 89–91.
Das »Kommunale Denkmalkonzept«. Eine Perspektive für mehr Eigenverantwortung von Kommunen und Bürgergesellschaft im System Denkmalpflege (gemeinsam mit Thomas Gunzelmann, Judith Sandmeier und Gerhard Vinken), in: Die Denkmalpflege 75 (1), 2017, S. 20–26.
Kommunales Denkmalkonzept als Chance. Ein Beitrag zu einer historisch informierten Stadtplanung (gemeinsam mit Gerhard Vinken), in: Bayerisches Landesamt für Denkmalpflege (Hg.): Das Kommunale Denkmalkonzept. Den historischen Ortskern gemeinsam gestalten und entwickeln (Denkmalpflege Themen, 8), München 2017, S. 24–26. (http://www.blfd.bayern.de/denkmalerfassung/publikationswesen/publikationen/00057/)
Neue Nutzungsmöglichkeiten für die Lutherkirche (gemeinsam mit Anna Maria Borowska, Laura Maria Gäbler und Maximilian Rehn), in: Deutsches Nationalkomitee für Denkmalschutz (Hg.): Neue Ideen für das Quartier Alter Bahnhof. Dokumentation des Studentenworkshops des Deutschen Nationalkomitees für Denkmalschutz vom 8. bis zum 14. September 2013 in Bochum Langendreer (Schriftenreihe des Deutschen Nationalkomitees für Denkmalschutz, 83), 2016, S. 13–18.
Lectures and Profiling
"Vermittlungs- und Beteiligungskonzepte im KDK in Theorie und Praxis" (gemeinsam mit Annegret Michler). Praxisseminar für Planer: Das Kommunale Denkmalkonzept.Bayerisches Landesamt für Denkmalpflege, Mühldorf am Inn, Oktober 2019
"Engagement für die historische Stadt. Einsatz und Wirkung am Beispiel des KDK Viechtach" (gemeinsam mit Judith Sandmeier). Fachdialog: Stadterneuerung und Denkmalpflege. Geschwister oder Antipoden? Eine Kooperation des KDWT, des Fachgebiets Stadtumbau+Ortserneuerung der TU Kaiserslautern und des Bayerischen Landesamt für Denkmalpflege zu Gast bei der Stadt Regensburg, Regensburg, April 2019
"Das Kommunale Denkmalkonzept Bayern" (gemeinsam mit Judith Sandmeier). Stadterneuerung in Klein- und Mittelstädten. Jahrestagung des Arbeitskreises Stadterneuerung an deutschsprachigen Hochschulen, TU Kaiserslautern, Juni 2018
"Schnittstellen als Herausforderung. Bericht zum Uniworkshop zu Partizipation in der Denkmalpflege", Praxisworkshop: Erfahrungsaustausch Kommunales Denkmalkonzept – Schnittstellen Kommunen, Landesamt, Uni, Planer, Bürgerschaft, Bayerisches Landesamt für Denkmalpflege, Thierhaupten, November 2017
Teilnahme am internationalen Kurs Promoting People-Centred Approaches to the Conservation of Nature and Culture, ICCROM / IUCN, Rom / Ercolano / Trient, Oktober 2017
"Managing the Historic Urban Landscape of Bavaria in respect to the 'participatory turn'". Heritage communities. 12thInternational Conference of Young Researchers in Heritage, Canadian Research Chair in Urban heritage, Université de Québec à Montréal, Montréal, September 2017
"The Municipal Heritage Concept, Bavaria. A new tool for an urbanistic, heritage-led approach to urban development". Study Visit on Community Involvement in Heritage Planning, Community-led Urban Strategies in Historic Towns (COMUS), organisiert über das Welterbezentrum Bamberg, Bamberg, Juli 2016