•
Mariam Gegidze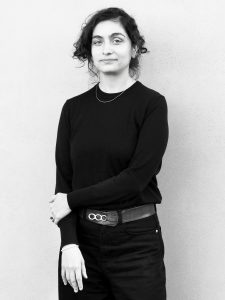 Shortbio
2020 Participation in Tbilisi Architecture Biennial and Foundation of Tbilisi Architecture Archive – TAA
2017-2021 Freelance work in the editorial office of architecture online magazine BauNetz
2015 Freelance work on the exhibition and publication "Dialogic City – Berlin wird Berlin"
2014-2015 Member of the exhibition team "Post-Oil City. The History of the City`s Future" ARCH+ in Tbilisi and editor of a Georgian-language catalogue
2009-2014 Master's degree in cultural studies, Humboldt University of Berlin
2012-2013 Editorial assistance in the architecture magazine ARCH+
2002-2007 Diploma in architecture, Tbilisi State Academy of Arts
---
Contact
Anhalt University of Applied Sciences – Faculty 3
Architecture, Facility management and geo information
DFG Research Training Group 2227 "Identity and Heritage"
mariam.gegidze[at]hs-anhalt.de

Postal address: Seminarplatz 2a
D-06846 Dessau
Stories from the Collection – Archive for Georgia's Soviet architecture
Archiving architectural documents whether sketches or notes, plans or models can make them speak anew. With continuous regrouping and transformation of facts, architectural collections represent the store of knowledge. These collections are essential in order to make architecture more visible and strengthen public discourse on it. And in case if the large part of them is missing researchers, planners and all interested individuals are challenged with a gap in history.
The planned project deals with alternative methods of collecting and communicating architecture. In recent years collecting as a practice has been in the focus of substantial attention within a wide variety of disciplines. The topic of great interest is the question about the connection between collecting and knowledge. In case if knowledge is determined by collecting, architectural knowledge is also shaped to a large extent by collecting discipline related objects and documents. What is the interaction between the loss of architectural collections and the damage of a single building? And how far can the visibility of missing collections increase the appreciation of particular architecture? – These questions are researched in the dissertation based on the example of Georgia.
After the collapse of the Soviet Union the former Soviet republic of Georgia sank into a severe political, economic and social crisis. Meanwhile already weakened construction field also collapsed. Since then, several buildings and monuments have been demolished and altered and so far only few buildings from soviet period are registered in the list of monuments of cultural and industrial heritage of Tbilisi. The state-owned planning and research institutes were also closed one after another and the collections stored in these institutions can no longer be found or have not been recorded until now. The preservation of remaining architectural documents and analysis of the actual extent of the loss, as well as visibility and discussion of recent architectural history seems more important today.
Forming new strategies and gaining answers for the question of further development of Georgia will only be possible by unpacking and making the architecture collections visible. Within the framework of the dissertation, new methods will be directly examined on the website Tbilisi Architecture Archive. Based on the knowledge of historical contexts, this alternative architecture archive should face the current issues and tasks in architecture, stimulate new discourses and follow them up in the research.
---
Publications (selection)
Buchtipp: Vernetzte Schweiz. In: BauNetzWoche592 2022
Queernees im öffentlichen Raum. Poligonal vermitteln Erfahrungen marginalisierter Grippen. In: BauNetzWoche#569 2021
Architektur im Archiv. Vom Sammeln, Kuratieren und Digitalisieren. BauNetzWoche#558 2020
Initiative Gewinnt. Eliso Sulakauri. In: BauNetzWoche#549 2020
Wer hat Angst vor(M) Biest? Ein Künstlerduo aus Berlin entwirft flüchtige Raumkonstellationen für ein nomadisches Zeitalter. In: BauNetzWoche#500 2017
Everything not forbidden is allowed / Alles was nicht verboten ist, ist erlaubt (gem. mit Manjavdize D. und Opel, N.), in: ARCH+ 224, 2016 / Danarti magazine 8, 2018.
… lebt und arbeitet in Berlin (gem. mit Hönig, T.), in: Brandlhuber, A. et al. The dialogic city — Berlin wird Berlin. Köln 2015.
Glossary (gem. mit Bakradze, L. und Tchatchkhiani, N.), in: Post-Oil City. The History of the City`s Future (geo.) Tbilisi 2015.
Auf der Suche nach dem großen Wurf (gem. mit Spruth, D.), in: ARCH+ 209, 2012.
D. Moskau–Berlin—London (gem. mit Ngo, AL. und Spruth, D.), in: ARCH+ 209, 2012.
Zwischen Staat, Markt und Gesellschaft. (gem. mit Spruth, D.), in: ARCH+ 209, 2012.