Zoya Masoud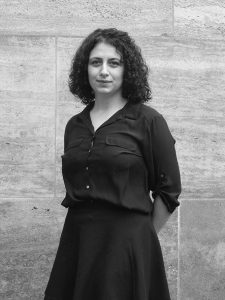 Shortbio
2021 Lecturer at TU Berlin, Institute for urban and Regional Planning.
2017 – 2019 Research Associate at the German Archaeological Institute. Project: 3D Model of Aleppo Bazaar.
2015 – 2018 Research Associate at the Berliner Museum for Islamic Art (Projects: Multaka-Museums as Meeting Point, Crossroads Aleppo and Syrian Heritage Archive).
2016 Research associate at BTU Cottbus.
2012 – 2015 Master of Resource Efficiency in Architecture and Planning (REAP) at HafenCity University Hamburg.
2014 Field research at Ardhi University, Dar es Salaam.
2012 Lecturer at Damascus University, chair of urban and environmental planning.
2010 – 2012 Site architect of restoration projects at AKTC (Agha Khan Trust for Culture)
2004 – 2010 Studies of architecture and urban planning at Damascus University.
---
Contact
Technical University Berlin
Faculty VI – Planning Building Environment
Institute of Urban and Regional Planning
Chair of Heritage Conservation
DFG Research Training Group 2227 »Identity and Heritage«
D-10623 Berlin
Office: Ernst-Reuter-Platz 1 | BH-A 340
D-10587 Berlin
zoya.masoud[at]tu-berlin.de
Unsichtbare Monumente – Wahrnehmung des Kulturerbes im Krieg und in der Nachkriegzeit in Aleppo
Der sogenannte Arabische Frühling erreichte im Jahr 2012 Aleppo: Die friedlichen Demonstrationen eskalierten zu einem militärischen Kampf zwischen diversen Parteien. Die Frontlinie des Kampfs verlief in der Altstadt. Viele Einheimische sind aus der Stadt Aleppo vertrieben worden und mussten in andere Gebiete des Landes, in Nachbarländer oder nach Europa fliehen.
Seit die Waffen im Dezember 2016 in Aleppo zu schweigen begannen, konnte eine kleine Gruppe der Altstadt-Bewohner zu ihren Häusern zurückkehren. Die erste Begegnung mit ihrer Heimatstadt war ein Schock: Die Stadt war teilweise zerstört, verbrannt, geplündert und voller Trümmer. Der Verlust fand auf zwei Ebenen statt: Die Altstadt als internationales Kulturerbe, zumal internationale Kulturerbe-Experten die besondere Bedeutung der Altstadt betonen. Doch auch auf lokaler Ebene, da mit der Zerstörung der Stadt auch der Verlust des persönlichen Raums und Erinnerungsorts der Bevölkerung einherging.
Das Dissertationsprojekt zielt darauf ab, zu untersuchen, wie Aleppiner in Aleppo und in der Diaspora die Zerstörung der Altstadt wahrnehmen und sich an die Bausubstanz und urbane Räume (gebaute Umwelt) vor 2012 erinnern. Auf diese Weise analysiert das Projekt, inwiefern die dramatischen Ereignisse der Zerstörung des Kulturerbes die Selbstidentifizierung mit der Altstadt und die Selbstdarstellung der Bewohnerinnen und Bewohner vor Ort und in der Diaspora beeinflussen.
Anhand konkreter Beispiele von Baudenkmälern und Häusern in den Nachbarschaften der Altstadt und dem Basar wird das Promotionsvorhaben die Untersuchung auf verschiedenen Ebenen durchführen: Die historischen Werte und Umstände der Zerstörungen, die mediale Vermittlung und Darstellung in sozialen Medien sowie die Debatten über den Wiederaufbau dieser Gebäude.
---
Publications
'Dinge geschehen sowieso': Das Kulturerbe von Aleppo und sein Schutz während des syrischen Krieges (2012–2016). In: Dinge, die verbinden: Objekte und Erbekonstruktionen. Schriftenreihe des DFG-Graduiertenkollegs »Identität und Erbe«, Band V, eds. Aysegül Dinccag Kahveci, Mariam Gegidze, Pablo Santacana López and Janna Vogl. Bauhaus-University Press, Weimar. (Forthcoming 2024).
Shades of Locality in the Old Neighborhoods of Aleppo: Some Field Notes on the Meaning of 'Place of Origin' Asl. In: Reconstructing neighbourhoods of war, ed. Birgit Schäbler. Orient Institut Beirut der deutschen Auslandsinstitute der bundesunmittelbaren Max Weber Stiftung, Beirut. (Forthcoming 2023).
Der Verlust eines unsichtbaren Monuments: von mentalen Repräsentationen der al-Khusrawiyya Moschee in der Altstadt Aleppos. In: Instabile Konstruktionen, Interdisziplinäre Forschung zu "Identität und Erbe". Schriftenreihe des DFG-Graduiertenkollegs »Identität und Erbe«, Band II, hrsg. von Simone Bogner, Gabi Dolff-Bonekämper, Hans-Rudolf Mayer and Mark Escherich. Bauhaus-University Press, Weimar, 2022, P. 122–137.
Verlust erleben: Identifikation(en) mit Räumen des Kulturerbes in der Kriegs- und Nachkriegszeit. In: Die Altstadt von Aleppo Gestern und Heute, Aleppo Journal 2022, ed. Mamoun Fansa, EB-publishing house, Berlin, 2021.
A treasure of heritage for the poor of Aleppo: Neighborhoods between the Hammer of Political Insecurity and the Anvil of Warlords. In: TRAFO series "Reconstructing Neighborhoods of War", Open Access on TRAFO, a blog for Transregional Research, 2019. Open access: https://trafo.hypotheses.org/20135 [01.05.2023].
Crossroads Aleppo: Our City, shared heritage, our Memory. A project to document the World Heritage Site of Aleppo. Open access on: L.I.S.A. Wissenschaftsportal of Gerda Henkel Foundation, 2018, (https://lisa.gerda-henkel-stiftung.de/crossroads_aleppo?nav_id=7687 [01.05.2023].
Crossroads Aleppo: Our City, shared heritage, our Memory [today renamed: Aleppo Heritage Catalogue]. [since October 2019, Dima Dayoub undertook the editing]. Open access on L.I.S.A. Wissenschaftsportal of Gerda Henkel Foundation, Bonn, (2018). Link: https://lisa.gerda-henkel-stiftung.de/aleppo_heritage_catalogue?nav_id=8536&publication=1 [01.05.2023].
Junge Experten für den Schutz und Erhalt des Menschheitserbes in Syrien (mit Saskia Baderschneider). Guest contribution in Jahresbericht der Deutschen UNESCO-Kommission, 2017. Link: https://www.unesco.de/sites/default/files/2018-01/Jahrbuch_2016-2017.pdf [01.05.2023].
Die Ausstellung des Museums für Islamische Kunst und der Aspekt des Kunst- und Kulturtransfers (Schulmaterial). In: Multaka Project, Museum für Islamische Kunst im Pergamonmuseum, Berlin, 2016.
Selected Lectures
Berlin, November 2019, Graduiertenkolleg "Identität und Erbe", Instabile Konstruktionen, "Snapshots of Memorycide and Moments of Self-Identification with Invisible Monuments in the Old City of Aleppo".
Beirut, September 2019, AGYA "Destruction/(Re-)Construction: Interdisplinary perspectives on cultural heritage in conflict" Conference, Bearing to witness the Old City of Aleppo's destruction: between misfortune and organised crime .
Beirut, Dezember 2018, "Reconstructing neighbourhoods of war" international conference, am Orient Institut Beirut der deutschen Auslandsinstitute der bundesunmittelbaren Max Weber Stiftung. "Rebuilding the Old City of Aleppo in a Coherent Way: Alqaba neighbourhood". (https://www.orient-institut.org/fileadmin/user_upload/OIB_Card_NeighborhoodsOfWar_20.11.pdf)
Budapest, Mai 2018, REACH conference: RE-designing Access to Cultural Heritage for a wider participation in preservation, (re-)use and management of European culture . "Pilot on institutional heritage: Participative projects at the Berliner Museum of Islamic Art" (https://reach-culture.eu/wp-content/uploads/2018/05/conf_booklet.pdf)
Wien, November 2017, CHNT: Conference on cultural heritage and new technologies, "Rebuilding the Suqs of Aleppo" (https://www.chnt.at/rebuilding-the-suqs-of-aleppo/)
Berlin, July 2017, Imagine a Middle East symposium at ICI (Institute for Cultural Inquiry) "Archives as a Basis for Post-War Masterplan ?" (https://www.ici-berlin.org/events/imaging-a-middle-east/)
Hamburg, November 2015, TRIALOG Annual Conference, "Decentralized networks of water supply in urban Tanzania, case study: Dar es Salaam"