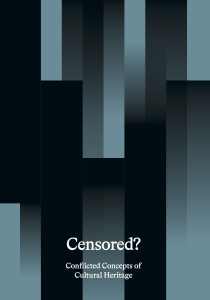 CENSORED? CONFLICTED CONCEPTS OF CULTURAL HERITAGE
Interdisciplinary Research on Identity and Heritage, Publication Series of the DFG Research Training Group 2227, Volume IV. With contributions from the speakers at the 5th Annual Conference of the Research Training Group. Published by Ayşegül Dinççağ Kahveci, Marcell Hajdu, Wolfram Höhne, Darja Jesse, Michael Karpf, Marta Torres Ruiz
Those who ask how social entities relate to the past, enter a field defined by competing interpretations and contested practices of a collectively shared heritage. Dissent and conflict among heritage communities represent productive moments in the negotiation of these varying constructs of the past, identities, and heritage. At the same time, they lead to omissions, the overwriting and amendment of existing constructs. A closer look at all that is suppressed, excluded or rejected opens up new perspectives: It reveals how social groups are formed through public disputes upon the material foundations of heritage constructs.
Taking the concept of censorship, the volume engages with the exclusionary and inclusionary mechanisms that underlie the construction of heritage and thus social identities. Censorship is understood here as a discursive strategy in public debates. In current debates, allegations of censorship surface primarily in cases where the handling of a certain heritage constructs is subjected to critical evaluation, or on the contrary, needs to be protected from criticism or even destruction. The authors trace the connection between heritage and identity and show that identity constructs are not only manifested within heritage but are actively negotiated through it.
CONTENT
AYŞEGÜL DINCCAĞ KAHVECI, MARCELL HAJDU, WOLFRAM HÖHNE, DARJA JESSE, MICHAEL KARPF, MARTA TORRES RUIZ
Censored? Conflicted Concepts of Cultural Heritage. An Introduction
On Practices of Destruction as Cultural Critique
ANNA ANGELICA AINIO
Leave Them as They are: Today's Disfigurement as Tomorrow's Artwork. A Comparison between the Robert E. Lee Monument in Richmond and the Statue of Pasquino in Rome
ARNOLD BARTETZKY
Zensur von unten? Aktuelle Auseinandersetzungen um umstrittene Kunstwerke und Denkmäler
Built Over – Representation and Marginalization in Urban Space
RACHEL GYŐRFFY
Ikonoklasmus, Musealisierung und Hyperrealität. Eine Annäherung an den architektonischen Rekonstruktivismus in Mittel- und Osteuropa
KLARA ULLMANNOVA
A Contested Topic? Architectural Heritage of the Second Half of the 20th Century in Czechia
FRIEDERIKE LANDAU-DONELLY
Ghostly Heritage. Tracing the Conflictual Space of Vancouver's Chinatown. The Vocabulary of the Unsayable
LUKAS RATHJEN
Nachkriegsverschiebungen. Humanistische Rhetorik zwischen Erbe und Zensur
NASIMA ISLAM
Formation of the "Miya". Examining How Censored Identities are Talking Back in the Indian State of Assam
ANATOL RYKOV
Censorship and Global Art Theory. On the Social Production of Silence
NATALIE REINSCH
»der gnädige Schleier des Vergessens«. Der Zensurstreit zwischen Horst Brandstätter und der Stadt Stuttgart im Jahr 1987 als Aushandlungsprozess um das mit der Person Hanns Martin Schleyer verschränkte Erbe des Linksterrorismus und des Nationalsozialismus
PATRICIA LENZ
After Freedom of Expression? Two Examples of Contested Art Exhibitions in Japan
IRAKLI KHVADAGIANI
Owning the Past — to Control the Present. A Commentary on the Post-Soviet Know-How in Georgia. Censorship and Public Spaces in Times of Monument Removals
Panel Discussion
Kristina Leko, Nnenna Onuoha and Niloufar Tajeri in Talk with Jochen Kibel
---
Publication series "Identity and Heritage"
In this series, contributions by international academics, architects and artists are published on the key research areas of the DFG Research Training Group "Identity and Heritage". The interdisciplinary research training group, which is running at the Bauhaus-Universität Weimar and the TU Berlin from 2016-2025, brings together previously parallel discourses from the fields of architecture, architectural theory, archival sciences, architectural and urban planning history, fine arts, monument preservation, art and architectural history, cultural and media history, landscape architecture, philosophy, sociology of planning and architecture, sociology of space, spatial planning and spatial research, and urban planning. A special focus of attention is the critical research of identity and heritage constructions based on buildings, historical places and other, mainly material, cultural traditions.
The book (180 pages, 978-3-95773-304-7) can be ordered now from Bauhaus-Universitätsverlag: https://asw-verlage.de