•
Juliane Richter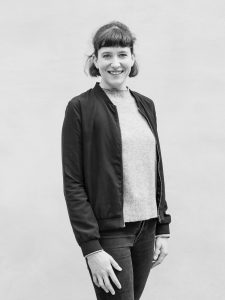 Shortbio
2016–19 Research associate in the DFG research project "Architektur und Raum für die Aufführungskünste – Entwicklungen seit den 1960er Jahren", HTWK Leipzig
2015–16 Founding, curation and project management of the international festival for art and architecture RASTER : BETON in Leipzig-Grünau http://www.raster-beton.de
2014–16 Journalistic traineeship at "der architekt", journal of the Association of German Architects BDA, Berlin
2014 Theodor Fischer Preis + Scholarship at Zentralinstitut für Kunstgeschichte, München, for magister thesis "Experimente im Plattenbau. Innerstädtischer Wohnungsbau in der DDR und das Leipziger Kolonnadenviertel"
2004–12 Magister's degree in art history, journalism and theatre studies at the University of Leipzig and the Università degli Studi di Roma La Sapienza
---
Contact
Bauhaus-Universität Weimar
Fakultät Architektur und Urbanistik
DFG-Graduiertenkolleg 2227 "Identität und Erbe"
D-99421 Weimar

Sitz: Prellerhaus | 3. OG | Raum 303
Geschwister-Scholl-Str. 6 | D-99423 Weimar
juliane.richter[at]uni-weimar.de
CONSTRUCTION PROJECTS OF THE GDR IN CUBA
The aim of the doctorate is to examine the transfer of construction projects designed by GDR architects and planners and built in Cuba between 1960 and 1990 in the context of transnational networks and cultural transfer processes. In addition to mutual exchange, processes in the field of architecture and urban planning, interrelationships, transfers and circulations of knowledge, models, technologies, and ideas are analyzed.
Numerous construction projects of the GDR in Cuba have so far hardly been investigated or not at all, although Cuba had the closest relations with the GDR in the socialist camp – subordinate to those with the USSR. The period to be examined is limited by the first trade and credit agreement with the GDR in 1960 and the collapse of the Eastern Bloc, and thus the loss of the island's most important foreign trading partners in 1990. Related is one specific case study is the knowledge production, transmission, and conceptualizations of "tropical construction" as they were carried out at the "Institute for Tropical Construction" at the HAB Weimar from the mid-1980s on.
Español
PROYECTOS DE CONSTRUCCIÓN DE LA RDA EN CUBA
El objetivo del doctorado es examiner el transferencias de los proyectos de construcción diseñados por arquitectos y planificadores de la RDA y construidos en Cuba entre 1960 y 1990 en el contexto de redes transnacionales y procesos de transferencia cultural. Además de los procesos de intercambio mutuo en el campo de la arquitectura y la planificación urbana, se analizan las interrelaciones, transferencias y circulaciones de conocimiento, modelos, tecnologías e ideas.
Hasta el momento, muchos proyectos de construcción de la RDA en Cuba apenas se han investigado o no se han investigado para nada, aunque este país era el que tenía las relaciones más estrechas con la RDA en el campo socialista, subordinadas a aquellas con la URSS. El período que se examinará está limitado por el primer acuerdo comercial y crediticio con la RDA en 1960 y el colapso del Bloque del Este, y por lo tanto la pérdida de los socios comerciales extranjeros más importantes de la isla en 1990.
Un estudio de caso específico es la producción de conocimientos, la transmisión y las conceptualizaciones de la "construcción tropical" tal y como se llevaron a cabo en el "Instituto de Construcción Tropical" del HAB de Weimar a partir de mediados de la década de 1980.
---
Projects

Selected Lectures
"Moden, Emotionen, Aktivismus. Zur Aneignung der Architektur der DDR", Symposium "Baukultur erforschen und vermitteln. Kolloquium zum Gedenken an Thomas Topfstedt", Leipzig, 9.–10. September 2022
"Industrieller Wohnungsbau in der DDR", Talk in occassion of the book presentation, with Philipp Meuser and Wolf-Rüdiger Eisentraut, 15. Juni 2022, DDR-Museum, Berlin
"Research on Tropenbau in the GDR. The Scientific Department of Building in the Tropics and Abroad at the University of Weimar", Conference "Architectural training and research in the foreign aid-funded knowledge economy 1950s–1980s", KTH School of Architecture Stockholm, 10. September 2021
"Das Ende der Moderne? Postmoderne in der DDR", Lecture and talk, Kirsten Angermann and Juliane Richter, Zentrum für Baukultur Sachsen, Dresden, 24. November 2021
"New perspectives on big housing estates in the East and the West. Artistic aproaches towards post-war architecture", lecture and teaching at practice seminar at the International Balzan Summer Seminar "Urban Change and Memory. New Perspectives on Europe and Beyond", Universität Konstanz, 24. August 2019
"Metatalk. Modernes Erbe", guest speaker during project week of TU Berlin "Auf Wiedersehen Utopia – zurück in die Stadt der Zukunft", Barkenberg (Neue Stadt Wulfen), 1. September 2018
"Experimente im Plattenbau. Das Kolonnadenviertel zwischen 1945 und 1990", Stadtgeschichtliches Museum Leipzig, 31. August 2017
"When a space becomes a place. The festival RASTER : BETON in the large housing estate Leipzig-Grünau", International Conference "Urban Heritage Activism", TU Berlin, 17. März 2017
"Altstadtplatte und Innenstadtrekonstruktion. Vier Jahrezehnte Planen und Bauen in der Leipziger Westvorstadt", Architekten- und Ingenieurverein Berlin, 23. November 2015

Publications
Editorial board:
Richter, Juliane / Scheffler, Tanja / Sieben, Hannah (Hg.): Raster Beton. Vom Leben in Großwohnsiedlungen zwischen Kunst und Platte. Leipzig-Grünau im internationalen Vergleich. M BOOKS, Weimar 2017. Mehr Infos

D21 Kunstraum e. V./Octagon e. V. (Hg.): Stadttfinden Festival-Workbook. Gemeinsam die wachsende Stadt gestalten. Leipzig 2020.
Monograph:
Richter, Juliane / Weise, Katja: DDR-Architektur in der Leipziger Innenstadt (Forschungen zum baukulturellen Erbe der DDR, Bd. 5). Bauhaus Universitätsverlag, Weimar 2015.

Papers:
Komplexe Rekonstruktion in der Leipziger Westvorstadt. In: Meuser, Philipp (Hg.): Vom seriellen Plattenbau zur komplexen Großsiedlung. Industrieller Wohnungsbau in der DDR 1953-1990. Berlin, Dom Publishers 2022, S. 271-291.
"A 'complicated political-ideological situation'. Transfering a cement plant from Dessau/GDR to Nuevitas/Cuba", ABE Journal [Online], 19 | 2021, Online since 09 May 2022, 2022. URL: http://journals.openedition.org/abe/12747; DOI: https://doi.org/10.4000/abe.12747
Plattenbau als Erinnerungsort / Plattenbau as Realm of Memory. In: Theiler, Daniel (Hg.): Reconstructing Tomorrow. (Künstlerkatalog) Berlin, Hatje Cantz 2021, S. 201-212.
Stadttfinden. Ein Festival als Versuchsanordnung. In: D21 Kunstraum e. V./Octagon e. V. (Hg.): Stadttfinden Festival-Workbook. Gemeinsam die wachsende Stadt gestalten. Leipzig 2020.
Durchmischung und Dynamik. Die Chemnitzer Stadthalle und ihre polyvalenten Räume. In: MAP – media archive performance 10, 2019. URL: http://www.perfomap.de/map10/modellieren/durchmischung-und-dynamik
Serie, Raster, Geometrie. Annäherung an eine grenzüberschreitende Beziehung. In: Rapport. Alexa Kreissl und Tim Trantenroth (Katalog Zentrum für Baukultur Dresden). Berlin 2019.
RASTER : BETON. Ein Festival für Kunst und Architektur in Leipzig-Grünau. In: Gerbergasse 18. Thüringer Vierteljahreszeitschrift für Geschichte und Politik 2019, H. 1, S. 19–23.
Rezension von: Handorf, Dirk / Kirchner, Jörg (Hg.): Alles Platte? Architektur im Norden der DDR als kulturelles Erbe. Berlin 2018. In: sehepunkte 20, 2020, Nr. 6. URL: http://www.sehepunkte.de/2020/06/33304.html
Moden und Emotionen. Zur aktuellen Rezeption der Architektur der 1960er bis 1980er Jahre in Medien, Kunst und Populärkultur. In: Mager, Tino / Trötschel-Daniels, Bianka (Hg.): Rationelle Visionen. Raumproduktion in der DDR. Bauhaus Universitätsverlag, Weimar 2018, S. 190–208.
When a space becomes a place. The festival RASTER : BETON in the large housing estate Leipzig-Grünau. In: Barbé, Diane / Fenk, Anne-Katrin / Lee, Rachel / Misselwitz, Philipp (Hg.): Things Don't Really Exist Until You Give Them a Name. Unpacking Urban Heritage. Mkuki na Nyota Publishers, Tansania 2018.
Leerstand nutzen! Zwischennutzungskonzepte für Bochum-Langendreer. In: Deutsches Nationalkomitee für Denkmalschutz (Hg.): Neue Ideen für das Quartier Alter Bahnhof in Bochum-Langendreer. Bonn 2016.
Rezension von: Harald Engler: Wilfried Stallknecht und das industrielle Bauen. Ein Architektenleben in der DDR. Lukas Verlag, Berlin 2014. In: sehepunkte, Bd. 15, 2015, H. 12, URL: http://www.sehepunkte.de/2015/12/27266.html.
Viele Namen, eine Stadt. Doppel-Rezension von: Arnold Bartetzky: Leipzig. Die gerettete Stadt. Lehmstedt Verlag, Leipzig 2015 und Frank Eckardt, René Seyfarth, Franziska Werner (Hg.): Leipzig. Die neue urbane Ordnung der unsichtbaren Stadt. Unrast Verlag, Münster 2015. In: der architekt. Zeitschrift des Bund Deutscher Architekten BDA, online, 17.10.2015, URL: http://derarchitektbda.de/buch-der-woche_027/.
Es geht auch anders. Perspektiven für Ankunft, Alltag und Zukunft. In: der architekt. Zeitschrift des Bund Deutscher Architekten BDA, 2015, H. 2, S. 72–80. Mehr Infos
Frohe Zukunft. Über ein Gespräch mit Willi Sitte. In: Henze, Eyk/Zeckert, Patricia: Flachware. Fußnoten der Leipziger Buchwissenschaft. Leipzig 2009, S. 175–180.
Werner Tübkes "Versuch II". In: Michalski, Annika/Zöllner, Frank (Hg.): Tübke-Stiftung Leipzig. Bestandskatalog der Gemälde. Leipzig 2008, S. 32–35.