Luise Helas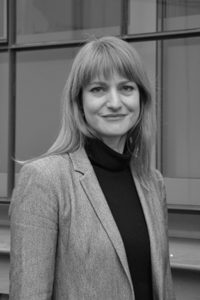 Shortbio
geb. 1976 in Dresden
Studium der Kunstgeschichte und Geschichte an der TU Dresden.
Masterstudium "Schutz Europäischer Kulturgüter" an der Viadrina in Frankfurt/Oder
2008-09 / wissenschaftliche Mitarbeiterin in der Deutschen Fotothek Dresden
2010-12 / wissenschaftliche Hilfskraft am Lehrstuhl Denkmalpflege und Baugeschichte der Bauhaus-Universität Weimar
seit 2012 / Mitarbeiterin der Denkmalschutzbehörde der Landeshauptstadt Dresden
2015-19 / Mitglied des Graduiertenkollegs Identität und Erbe 
seit Herbst 2019 Mitarbeiterin in der Unteren Denkmalschutzbehörde der Landeshauptstadt Dresden
---
Contact
Luise Helas
Landeshauptstadt Dresden
Geschäftsbereich Kultur und Tourismus | Amt für Kultur und Denkmalschutz | 
Abt. Denkmalschutz/Denkmalpflege 
Mail: LHelas@Dresden.de
Against decay. Voluntary commitment to the architectural heritage of the city of Dresden at the time of the GDR.
Based on the question of how the link between heritage and identity constructions is shaped by social groups, the dissertation aims to present the work of voluntary monument preservation in the GDR using the example of Dresden. The aim is to clarify how the commitment of interested citizens was organized in a state of control, what influence these groups had on institutionalized monument preservation and thus on the constitution and transmission of cultural heritage in the GDR, and how this continues to have an impact today. The focus of the study is on the period from 1965, the year in which the "Working Group of Voluntary Monument Preservationists at the Council of the City of Dresden" was constituted, and the end of the GDR in 1989/90. However, the preceding civic activities of the post-war period from 1945 onward, which were decisive for the establishment and development of voluntary monument preservation, will not be disregarded. In addition, there will be an outline of the further development of voluntary monument preservation after the political turnaround until today.
The activities of the honorary commissioners for the preservation of historical monuments, which have only been marginally studied so far, have only been recorded in writing to a limited extent, and the wealth of experience of the contemporary witnesses threatens to gradually disappear with them. On the basis of interviews with contemporary witnesses, the work of this group of people will be determined and thus their influence on our identity and heritage formation to this day.
Defended in November 2020. (unpublished)
---
Publications
Die Nahkriegsmoderne in Dresden. In: Dresden und seine Architekten. Strömungen und Tendenzen 1900-1970, herausgegeben von der LH Dresden, Dresden 2012, S. 137–158 u. S. 159–245 (Architektenverzeichnis).
Walter Womacka. Sein Beitrag zur architekturbezogenen Kunst in der DDR. In: Luise Helas / Wilma Rambow / Felix Rössl: Kunstvolle Oberflächen des Sozialismus. Wandbilder und Betonformsteine. Forschungen zum baukulturellen Erbe der DDR Bd. 3, hrsg. von Hans-Rudolf Meier, Weimar 2014, S. 19–102.
Die Zionskirche zu Dresden. Ein Sakralbau der Reformbaukunst. In: Insitu, Zeitschrift für Architekturgeschichte, 2/2014, S. 239–256.
Dresdens Lenin. Zur Geschichte und zum Umgang mit einem Gespenst des Kommunismus, in: Dresdner Hefte 37 (2017), S. 63-70.
Gegen den Verfall. Freiwillige Akteure für das baukulturelle Erbe Dresdens zur Zeit der DDR, in: Denkmal – Heimat – Identität. Denkmalpflege und Gesellschaft. Konferenzband zur Fachtagung des Amtes für Kultur und Denkmalschutz der Landeshauptstadt Dresden, 27.-29. November 2019, Dresden 2020, S. 148-159.