Michael Karpf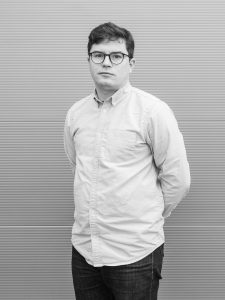 Kurzvita
seit 2019 Kollegiat am DFG-Graduiertenkolleg 2227 "Identität und Erbe" an der Bauhaus-Universität Weimar
2019 Wissenschaftlicher Mitarbeiter am Institut für Sozialarbeit und Sozialpädagogik e.V. in Frankfurt am Main
2018–2019 Programm zur Promotionsvorbereitung am Max-Weber-Kolleg der Universität Erfurt
2017–2019 Lehrbeauftragter am Arbeitsbereich Allgemeine und Theoretische Soziologie an der Friedrich-Schiller-Universität Jena
2014–2017 Master Gesellschaftstheorie an der Friedrich-Schiller-Universität Jena
2010–2014 Bachelor Sozialwissenschaften an der Justus-Liebig-Universität Gießen
---
Kontakt
Bauhaus-Universität Weimar
Fakultät Architektur und Urbanistik
DFG-Graduiertenkolleg 2227 "Identität und Erbe"
D-99421 Weimar

Sitz: Prellerhaus | 3. OG | Raum 303
Geschwister-Scholl-Str. 6 | D-99423 Weimar
michael.peter.karpf[at]uni-weimar.de
Present Pasts.
The Culture of Remembrance at the End of ›The Era of the Witness‹
The planned PhD-project aims to explore how societies remember the Holocaust at the end of ›The Era of the Witness‹ (Annette Wieviorka). For this purpose, the analytical focus will be on cinematic after-images to grasp the transformation of the social frames of remembering in the transition from communicative to cultural memory.
In order to focus on this process, the "memory-forming power of the media" (Astrid Erll, my translation) for contemporary cultures of remembrance is examined using the example of contemporary cinematic works on the Holocaust. For this purpose, remembering is conceptually reconstructed in three social dimensions to elaborate the cinematic images: First, it is a communalizing or socializing act in itself, which creates an identity of the remembering subjects as well as an imagined community. Second, in remembering, the concrete historical moment is made present out of the social present as the socio-temporal place of memory. Third, remembering is to be understood as a communicative act that depends on communicating individuals and/or media to secure memory content.
With this perspective, the subjects of the historical time and place themselves move into the center: the witnesses. They are regarded as the central spokespersons of a community of memory and establish a personal connection between past and present that is finite and limited. By focusing on the representation of the witness in film, the project tries to show how societies address and process the loss of the central agents of Holocaust memory.
Methodologically, the presentness of the Holocaust in popular media culture is examined in terms of filmic sociology. Thus, it is not about a reconstruction of the negotiation processes of a 'correct remembering', but about the inherited imaginary images captured in the moving image, as well as the narratives of testimony concretely staged in them, which thus become thematizable and criticizable.
Publikationen
Raumerfahrung und Erinnerung. Zur Konstitution von individuellen Gedächtnislandschaften des Holocaust am Beispiel von Georges Didi-Hubermans ›Borken‹. In: Janine Fubel/Alexandra Klei/Annika Wienert (Hrsg.): Raum und Holocaustforschung. Eine transdisziplinäre Einführung. Berlin/New York:De Gruyter.
Erscheint 2022
Rezension zu: Elizabeth Ward. East German Film and the Holocaust. New York/Oxford: Berghahn 2021. In: MEDIENwissenschaft. Rezensionen | Reviews 2021 (4). Marburg: Schüren.
Erscheint 2021
Tagungsbericht: Der Intellektuelle, die Erinnerung und die Stadt. Maurice Halbwachs im Spiegel des 21. Jahrhundert, 15.10.2021 – 17.10.2021 Weimar. In: H-Soz-Kult.
Erscheint 2021
Zeugenschaft darstellen. Un-/Möglichkeiten der Darstellung des Holocaust in SAUL FIA. In: nach dem film 19 (Schwerpunkt: Mit Film denken und handeln). Online verfügbar unter: https://www.nachdemfilm.de/index.php/issues/text/zeugenschaft-darstellen (Stand: 20.10.2021).
Wie kommt eine Gesellschaft zu ihren Bildern? Oder: Zur bildhaften Konstruktion gesellschaftlicher Wirklichkeit. In: IMAGE. Zeitschrift für interdisziplinäre Bildwissenschaft 34, 2021, S. 38–59.
Rezension zu: Rasmus Greiner. Histospheres. Zur Theorie und Praxis des Geschichtsfilms. Berlin: Bertz + Fischer. In: MEDIENwissenschaft. Rezensionen | Reviews 2021 (2). Marburg: Schüren, 2021, S. 191–192.