Niloufar Tajeri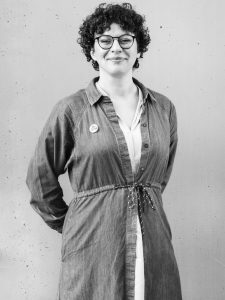 Shortbio
Born 1980 in Tehran
Since 2022 Research Associate DFG Research Training Group 2227 "Identity and Heritage", TU Berlin
2021 – 2023 Lecturer at Anhalt University of Applied Sciences, Bauhaus Dessau, Master's program Coop Design Research
2017 – 2022 Research Assistant at TU Braunschweig, Institute for History and Theory of Architecture and City
2020 Lecturer at UdK Berlin, Chair of Art and Cultural History
2016 – 2018 Architect coop.disco architectural cooperative, Berlin
2013 – 2016 Research Assistant KIT, Department of Building Design, Institute of Design, Art and Theory, BMBF Research Project
04/2013 – 12/2013 Editor | Project Manager, ARCH+, Berlin
2010 – 2013 Exhibition Architect | Project Manager, onlab visual communications GmbH, Berlin
2008 – 2010 Project Assistant Dubai Culture and Arts Authority, U.A.E.
04/2007 – 11/2007 Research Assistant Netherlands Architecture Institute (Het Nieuwe Instituut), Rotterdam
2007 – 2008 Editorial Assistant | PR Volume Magazine, Amsterdam
2004 – 2005 Internship Aga Khan Foundation, Herat | Ministry of Urban Development and Housing, Kabul
1999 – 2006 Studies of Architecture Technical University Karlsruhe (today KIT)
---
Contact
Technical University Berlin Faculty VI – Planning Building Environment Institute of Urban and Regional Planning Chair of Heritage Conservation DFG Research Training Group 2227 »Identity and Heritage« D-10623 Berlin
Office: Ernst-Reuter-Platz 1, 10587 Berlin, Room BH-A 339/340
n.kirn.tajeri[at]tu-berlin.de
The spatialization of coloniality at Hermannplatz. A conflict on the imagination and production of space and society (working title)
For the past four decades, Berlin's built environment has been shaped by a contemporary historicism that has shifted architectural discourse to an aesthetic reference to history and as a phenomenon of "reconstruction". At the same time, the neoliberal project has become the paradigm of urban development during this period. The dissertation project examines a case study in which both developments interact. At Hermannplatz, an urban policy conflict has been unfolding along these two lines of development since 2019, with the start of urban redevelopment and the private-sector re-planning of the adjacent department store. Situated between the two districts of Kreuzberg and Neukölln, the case study at Hermannplatz intertwines the consequences of neoliberal urban development with the issues of migration, racism, and classism. The dissertation project examines the relationship between (1) existing multi-scalar, racializing discourses and spaces and (2) the specific architectural, urban re-planning as an expression of a neoliberal project that establishes discursive power relations and authority by reverting to a lost, historical building.
By analyzing the discourse and the images used in it, as well as reconstructing the conflict, I will prove my thesis that lived everyday practices and their emerging local heritage are already symbolically erased and displaced by the communication of the planned project in order to enable its implementation. At the same time, the images and discourses of the new construction project cement the ongoing processes of gentrification and displacement, and thus the continuity of capitalist exploitation as the given, inevitable future of spatial production.
The dissertation project therefore discusses the new construction project as a "displacement heritage" – a heritage that displaces – and asks what infrastructure enables the construction of this heritage as an object of identification. How does the "displacement heritage" become hegemonic along social, epistemic, political, economic principles/guidelines? Using the figure of thought of heritage infrastructure, epistemic foundations, conventions, values, models, processes, habits of seeing and aesthetics are problematized and their continuity since colonial times is shown. Focusing on spatial imagination and production, the premises of the coloniality of planning and architecture are examined. This is because the development of Berlin and the foundations of designing and planning architecture and the city are linked to colonialism and establish the "coloniality of the urban" (Ha, 2016). The continuity of these conditions, it is argued, finds expression in Hermannplatz as the spatialization of coloniality. What do the constructions of heritage and identity produced in the case study mean against the backdrop of the material and immaterial legacies of the former colonial metropolis of Berlin? What is the spatialization of coloniality and how do "heritage" and "identity" function against the contemporary backdrop of racialized spaces and racial capitalism? Whose participation/non-participation, whose visibility/invisibility does this produce?
The connections between reconstruction projects as well as urban transformations and the spatial consequences of racial capitalism have not been sufficiently investigated in the German context. The dissertation project therefore aims to transfer decolonial approaches from the case study into architectural and planning theory and to question the epistemes, conventions and norms of spatial imagination and production.
---
Current Publications
Nights of the Dispossessed. Riots Unbound Co-edited with Natasha Ginwala und Gal Kirn, Columbia Books on Architecture and the City, New York, 2021.
Gemeinwohl entwickeln: Kooperativ und Langfristig! Co-authored with coop.disco, Stadtentwicklungsamt Friedrichshain-Kreuzberg (ed.), Berlin, 2018.
Small Interventions. New Ways of Living in Post-War Modernis Co-edited with Walter Nägeli, Birkhäuser Verlag, Basel, 2016.
Kabul – Secure City, Public City Co-edited with Archis Foundation, Volume Magazine, Amsterdam, 2008.
"Neuköllner Null-Toleranz und sozialräumlicher Rassismus. Wie mit der Debatte um die «Clankriminalität» (Verdrängungs)-Politik gemacht wird". Co-authored with Jorinde Schulz. In: Rosa-Luxemburg-Stiftung, online: https://www.rosalux.de/news/id/46645/neukoellner-null-toleranz-und-sozialraeumlicher-rassismus
"And We Do Not Inhabit Single-Issue Spaces. Warum wir eine intersektionale Wissensproduktion und Erinnerungskultur in der Architektur brauchen". In: ARCH+, Zeitgenössische feministische Raumpraxis, 246, Berlin, 2022.
"Brutality of Poetry. A Reconsideration of the Critical Discourse about the Succes and Failure of Werner Düttmann's Social Housing" und Misserfolg des sozialen Wohnungsbaus Düttmanns". In: Werner Düttmann. Berlin.Bau.Werk. Lisa Marei Schmidt und Kerstin Wittmann-Englert (ed.). Wasmuth &Zohlen Verlag, Berlin, 2021.
"Built to Be Torn Down, Fed to Be Starved, Resurrected to Be Disposed Of: Capitalism Is a Riot, a Riot from Above". Co-authored with Gal Kirn. In: Nights of the Dispossessed. Riots Unbound. Natasha Ginwala, Gal Kirn, Niloufar Tajeri (ed.). Columbia Books on Architecture and the City, New York, 2021.
"Architektur als ideologische Dienstleistung. Eine Projektentwicklung der besonderen Art am Hermannplatz". In: ARCH+, Berlin Theorie, 241, Berlin, 2020.
"(K)ein Platz für alle? Wie in Berlin-Neukölln nicht-erwünschte Bewohner*innen durch politische Bevormundung und machtvolle Interessen systematisch verdrängt werden". In: Commún, 4, Bochum, 2020.
"Eine Projektentwicklung der besonderen Art". In: Marlowes, online: https://www.marlowes.de/eine-projektentwicklung-der-besonderen-art/
"The Gecekodu Protest Hut of Kotti&Co. A Space for Housing Rights in Berlin". In: The Funambulist, 22, Paris, 2019. Online: https://kottiundco.net/2019/06/02/english-the-gecekondu-protest-hut-of-kotti-co-a-space-for-housing-rights-in-berlin/
"Almost invisible. How Post-War Residential Buildings are Renovated is Decisive". In: Living the Region. Christian Holl, Felix Nowak, Peter Cachola Schmal, Kai Vöckler (ed.). Wasmuth Verlag, Tübingen/Berlin, 2018.
"Subtraction. Instances of Commoning in Housing Estates". In: ARCH+, An Atlas of Commoning. Places of Collective Production, 232, Berlin, 2018.
"Small Interventions and the Housing Question". In: Small Interventions. New Ways of Living in Post-War Modernism. Walter Nägeli, Niloufar Tajeri (ed.). Birkhäuser Verlag, Basel, 2016.
"Transformed Modernism, collective Modernism. The Shift from Space-OrientedDesign to Political Design Methods in Dealing with Existing Housing Stock". In: Small Interventions. New Ways of Living in Post-War Modernism. Walter Nägeli, Niloufar Tajeri (ed.). Birkhäuser Verlag, Basel, 2016.
"The Gradual Production of Nonexistence: A Case Study of Karstadt, Hermannplatz in Berlin" With Defne Kadioğlu. V Midterm Conference of the European Sociological Association Research Network 37: Urban Sociology, "Seeing Like a City/Seeing the City Through", Session 16.1: "Margins, Displacement, and struggles in the Urban Arena". Georg Simmel Center for Metropolitan Research, Humboldt University Berlin, 2022.
"Wessen Erbe, wessen Identität, wessen Architektur? Oder die notwendige Verkomplizierung von Geschichte, Kultur und Form" Ringvorlesung DFG-Graduiertenkolleg 2227 "Identität und Erbe", FH Erfurt, 2022.
"Kleine Eingriffe für ein Wohnen in der Postwachstumsstadt" Im Rahmen des Veranstaltungsprogramms der Ausstellung "wohnen3 – bezahlbar, besser, bauen", b.zb Bremer Zentrum für Baukultur, 2021.
"(K)Ein Platz für alle. Der stadtpolitische Konflikt am Hermannplatz" Input im Rahmen der Konferenz "Place International – 73 Tage der Commune oder der lange Wellenschlag der Revolution", Forum Freies Theater Düsseldorf, 2021.
"Das Benko Prinzip" Mit Diana Lucas-DroganGeomedia 2021, Konferenz "Off the Grid", Session T3S2: "The City is not a Grid?!" Universität Siegen, 2021.
"Please Update 'Gestaltung' to the Latest Version. Zu Transformationskompetenzen und Resilienzen in Architektur und Stadt" Berufungsvortrag mit Tobias Hoenig (co/now), TU Wien, 2020.
"Koproduktion. (Ver)Lernen von (etablierten) Prozessen und Arbeitsmethoden" Bauhaus-Universität Weimar, Entwerfen und Wohnungsbau, 2018.
"Remembering Riots. Monuments and Archives of Dissent" Mit Gal Kirn. WWU Münster, Institut für Kunstgeschichte, 2018.
"A renewed Attitude towards Restructuring Post-War Modernist Housing Estates" KTH School of Architecture, Stockholm, 2017.
All that is Solid Installation and exhibition as part of the seminar "1972 (or thereabouts)" at TU Braunschweig, 2018. The seminar focused on Pruitt-Igoe public housing development in St. Louis, Illinois, and critically dissected public housing myths. In collaboration with Folke Köbberling (Institut für architekturbezogene Kunst, TU Braunschweig).
Thinking a Monument to the Sub/Urban Riot Travelling exhibition, Academy Schloss Solitude Stuttgart, Museum of Contemporary Art Ljubljana, Pixxelpoint Festival, 2016. With Gal Kirn.