Antonia Kölble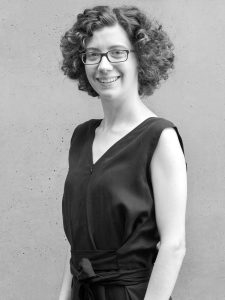 Shortbio
since 2022: Associate Researcher of the DFG Research Training Group 2227 "Identity and Heritage"
since 2022: Graduate Scholar of the University of Music Franz Liszt Weimar
since 2022: Dissertation with Prof. Dr. Tiago de Oliveira Pinto (UNESCO-Chair on Transcultural Music Studies Weimar)
2022: Master of Arts in Musicology and Transcultural Music Studies, University of Music Franz Liszt Weimar (Master thesis on "The Soundscape of the Alemannic 'Fasnacht' Parades in the Upper Rhine Plane")
2018: Bachelor of Arts in Musicology and Intercultural Music and Event Management, University of Music Franz Liszt Weimar
---
Contact
antonia.koelble[at]hfm.uni-weimar.de
THE ECO-MUSIC-SYSTEM PANTANAL: CORRELATIONS BETWEEN CULTURAL AND NATURAL HERITAGE
In the Brazilian area of the South American flood lands Pantanal the traditional music genres cururu and siriri as well as the musical instruments necessary for their performance viola de cocho, mocho and ganzá are strongly interwoven with their natural surroundings. For this reason, in my dissertation, I will consider and analyse the eco system and the traditional music system not as two separate constructs but rather as one common eco-music-system. Thereby, I follow the hypothesis that changes in one part of the eco-music-system have impacts on other parts of the same. On the one hand, this leads to the question: Which effects have changes in the ecosystem on the music system? And on the other hand: How can the traditional music and musical education promote appreciation for the nature of the Pantanal and thereby influence the ecosystem to which they belong to positively?
The great meaning and the contribution to identity of both the biotope Pantanal and the traditional music for the pantaneiros, the inhabitants of the region, were recognized by the nomination of four protected areas of the Pantanal as Natural World Heritage Sites by the UNESCO in 2000 and of the instrument making of the viola de cocho as intangible cultural heritage of Brazil by the IPHAN (Brazilian Institute of National Historic and Artistic Heritage) in 2005. To examine the correlations within the eco-music-system Pantanal, thus means to also examine the correlations between natural and intangible cultural heritage of the Pantanal.
The relation between cultural and natural heritage depends on the reciprocal effects of the institutional regulations for the protection and safeguarding of the cultural and natural heritage. To preserve the musical and the natural heritage in a socially and ecologically sustainable way means a balancing act between both regularities to protect the diversity of the biotope and measures to promote the performance of the traditional music genres and the instrument making – the first prohibits cutting down trees and poaching, the second depends on licences to use woods and animal skins.
The aim of my research is to show with the help of the case study Pantanal how eco and music systems or natural and cultural heritage are interrelated. Therefore, it is an intention of mine to examine the correlations within the eco-music-system in the context of the global climate and environmental crises and to promote consciousness for ecological-cultural connections.
---
O PANTANAL COMO SISTEMA ECOLÓGICO-MUSICAL: CORRELAÇÕES ENTRE PATRIMÔNIO CULTURAL E NATURAL (PORTUGUÊS)
Na área brasileira do bioma Pantanal os gêneros musicais tradicionais chamados cururu e siriri, bem como os instrumentos necessários para a sua prática – a viola de cocho, o ganzá e o mocho – estão estreitamente interligados. Por isso, no meu trabalho de doutorado eu não considero o sistema ecológico e o sistema musical tradicional como separados, mas como umsistema ecológico-musical. Nessa direção, eu sigo a tese de que mudanças em uma parte do sistema ecológico-musical influenciam outras partes do sistema conjunto. Por um lado, essa tese levanta a seguinte pergunta: quais efeitos as mudanças no sistema ecológico produzem no sistema musical? Por outra lado, indaga-se: de que forma a música tradicional e a educação musical podem promover apreço pela natureza do Pantanal e, assim, produzir um impacto positivo ao ecossistema em que são integrados?
A grande importância e a marca de identificação do biótopo Pantanal e da música tradicional para os pantaneiros foram reconhecidos por meio da nomeação de quatro áreas do Pantanal como patrimônio natural da humanidade pela UNESCO, em 2000, e pelo reconhecimento da viola de cocho como patrimônio imaterial do Brasil pelo IPHAN (Instituto do Patrimônio Histórico e Artístico Nacional), em 2005. Investigar as correlações dentro do sistema ecológico-musical significa consequentemente, também, examinar as correlações entre o patrimônio natural e cultural do Pantanal.
É importante que se diga que a relação entre patrimônio natural e cultural depende dos impactos recíprocos dos regulamentos institucionais que os protegem e os salvaguardam. A preservação simultânea do patrimônio musical e natural de uma forma social e ecologicamente sustentável no Pantanal precisa de um equilíbrio entre regulamentos de proteção da diversidade do biótopo, por um lado, e medidas de apoio para praticar a música tradicional e construir os seus instrumentos, por outro lado. O primeiro proíbe o abate de árvores e a caça furtiva, e o segundo precisa de licenciamento para o uso de madeiras e peles de animais.
O objetivo da minha pesquisa é mostrar, portanto, por meio do caso Pantanal, de que forma sistemas ecológicos e musicais ou patrimônios naturais e culturais são e estão interligados. No processo, eu acho muito importante considerar as interdependências dentro do sistema ecológico-musical no contexto da crise climática e ambiental e promover uma consciência para relações entre meio ambiente e cultura.
---
CURRENT PROJECTS
Project coordination of the young scholars symposium "'Musicology in Times of Trouble'. Musik und Wissenschaft in Zeiten von Krankheit, Krieg und Krisen" from March 31st to April 2nd 2023 at the University of Music Franz Liszt Weimar. For further information see https://www.dvsm-verband.de/unsere-aktivitaeten/symposien/35.-internationales-nachwuchssymposium/ .
---
Current Publications
Antonia Kölble: "Ein Musikinstrument im Einklang mit der Natur", https://sammlungen.uni-jena.de/de/aktuelles/detail.html?tx_jocontent_c24%5BjoNewsDetail%5D=494&tx_jocontent_c24%5BjoRefererId%5D=537&tx_jocontent_c24%5Baction%5D=c24&tx_jocontent_c24%5Bcontroller%5D=Content&cHash=3f9630aa01b85b924ebd5ccfbdd21287, 01.09.2019.
Dachverband der Studierenden der Musikwissenschaft e.V. (Ed.): "Musik(wissenschaft) in Zeiten des Klimawandels", https://jimdo-storage.global.ssl.fastly.net/file/63de9bb9-8e45-4167-bb84-1a95836e40a9/DVSM_Roundtable_Musik%20und%20Klima_final.pdf.